We'd like to invite you to join us on October 26 for the second part of our Quality at Source webinar series on "The Steps to Achieving Quality".
In the first part of this webinar, we addressed the importance of Quality at Source (QaS) for both the client and the LSP during the localization process, delving into the requirements of Quality at Source from both perspectives.
In part two, our Chief Quality Officer and General Manager of US Operations Nadège Young will guide you on a deep dive into the LSP side of the equation and explain why quality has again become a differentiator in the localization industry. In addition, moderator Aneta Bajda-Majka, Argos Multilingual's Global Marketing Director, will ask what the key elements of the Quality at Source elements for major steps in the localization process should be and how much optimization can be obtained with technology.
Join us on October 26 at 5pm CET/8am PST to learn why better input means better output, and to see how to help your LSP help you improve the quality of your content. 
Click here to learn more about the webinar and to register!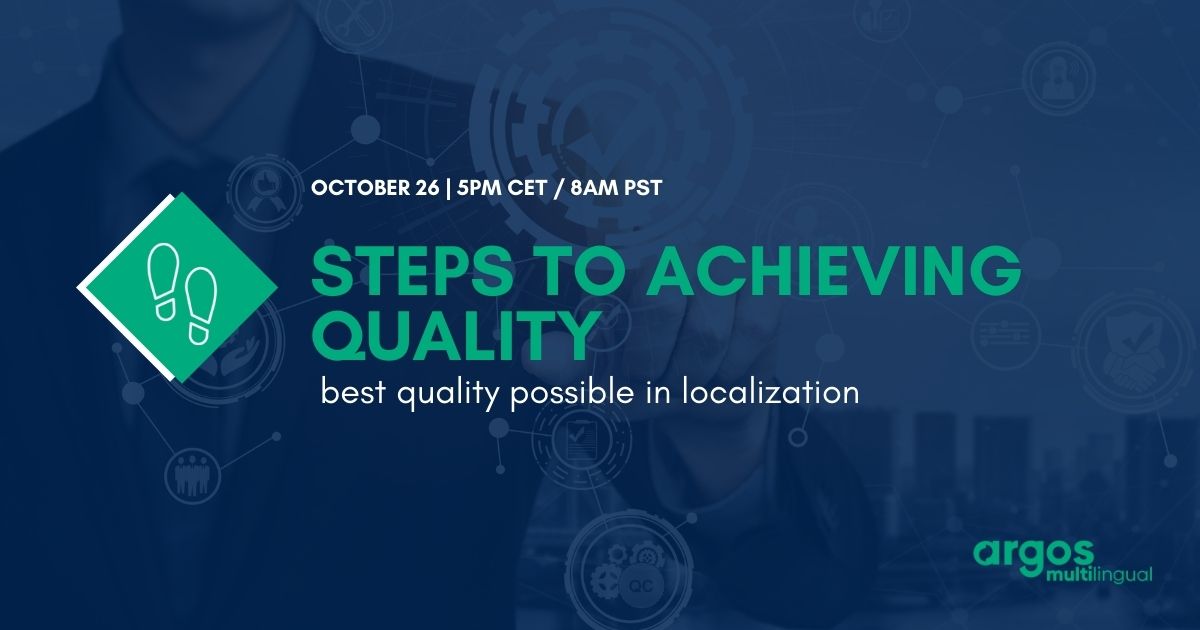 About Nadège Young:
Nadège joined Argos Multilingual in 2012 and brings two decades of experience in the localization industry to her current role. After studies in linguistics at the College of St. Thomas and a few years of teaching French, she decided on a career in localization. Starting as a French translator, she worked her way up to Head of Global Operations for P.H. Brink (subsequently Merrill Brink and now the United Language Group).
A respected leader and mentor, Nadège's knowledge and passion for the industry are apparent in everything she does. She applies our "Quality at Source" ethos to all aspects of her job, guiding streamlined and efficient processes and leading initiatives that improve translations farther upstream. Her wealth of knowledge, experience, and passion make her an effective presenter when it comes to acquiring new clients and maintaining strategic relationships with existing ones.
In case you missed the first webinar, Quality at Source: The Foundation to Success, you can access the recording here.