The Role of Marketing Content Localization When Going Global
The key to a successful business is understanding your customers. When seeking global expansion, all businesses are faced with the same prevailing question:
How can we successfully enter and position our business, our brand and our products in this new market?
It's this question that has meant more and more businesses are seeking more than just translation when taking their brand across borders – the points which have to be taken into consideration when it comes to Marketing Content Localization are going to be discussed in this blog series. 
When businesses go global, it is crucial that their brand evoke similar reactions and emotions with target customers abroad as they do at home. A translation often won't resonate with potential customers, because figurative language or imagery will often have a different nuance depending on the market.
Luckily there are a number of strategies which businesses can employ to make sure their message does not get lost in translation, depending on a business's material. Let's have a closer look at the basic strategies: Localization and Transcreation.
What is Localization?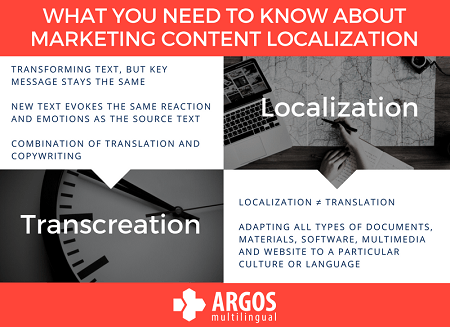 The term "Localization" is often used interchangeably (and incorrectly) with translation, but really localization is a more involved process; it is the process of adapting all types of documents, materials, software, multimedia and websites to target a particular culture or language. Localization adapts the message, images and graphics in order to communicate with the chosen target audience. 
What Does Transcreation Mean?
Transcreation is the process of transforming the text so that it is understood in the target market when taking into consideration cultural differences, figurative language and other nuances. The text itself may change, but the key message is preserved and it still evokes the same reaction and emotions as the source text.
Transcreation can be simply described as a combination of translation and copywriting all wrapped into one.
More and more brands and businesses are opting for Transcreation, to minimize the risk of having their message literally translated. Being aware of the cultural implications that can arise from translation can save businesses from embarrassment and failure when launching in other markets. It is a very involved process, and one designed to target your potential customers very carefully.
How exactly does Argos' approach looks like? Find out more in our webcast or have a look at our translation services!
Want to know more about Marketing Content Localization?