You've created a first-rate video and it's performing well among your local audiences, so now it's time to make it fit for international markets with high-quality voiceovers. What's your next step?
You partner with a company that offers professional voiceover services. How do you know you've made the right decision when you're not exactly sure what you're looking for, how the voiceover process looks from file submission to final result, or all the services a professional voiceover offer should have?
If you're at this step in our voiceover journey or looking for a new partner to localize your videos, then read this article to learn the Argos approach to our voiceover offer.
The First Step: File Submission
Identify the type of project, whether that's audio narration required for video, audio, or a mix (eLearning material, etc.) and what specific voiceover type is needed.
Once the source file has been submitted there are two stages of work to be done. In-house and external channels.
File Submission with Argos:
Argos proudly works with clients from eLearning, Network Technology, and social media industries. We are familiar with working on different file types submitted by our clients from simple MP4 or WAV files to more complex Pro-Res or Storyline modules.
We can work with any media files, and we can convert them to whatever we might need internally. The client simply shares whatever source they have.
The Second Step: Internal Script Focus
Argos internally handles transcription, translation and script formatting, under the purview and guidance of our in-country SME linguists and project managers.
Argos Focuses on Getting the Meaning Right:
We use in-county linguists with subject matter experience to ensure that the meaning conveyed in your messaging carries over to any and all translations included in the final product. As a localization authority with more than 30 years of experience we understand that the nuances of language, culture and forms of communication play a vital role in getting a message across accurately.
The Third Step: Recording
Argos chooses a recording studio best suited to fulfill client requirements. The scripts are sent to the studio along with the supporting files for reference.
We encourage our clients to request specific talent for recordings. Beyond male or female voices, there are nuances that can further support your messaging. Selecting the right tonality, level of maturity, and overall feeling can go a long way in invoking the intended emotions from your audiences.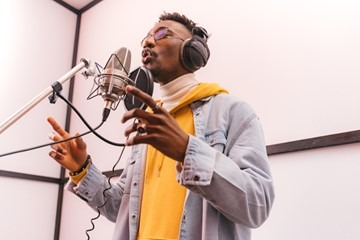 We Include Clients Every Step of the Way:
We understand that sometimes our clients may not have a specific vision regarding what the voiceover should sound like. Our experts send a variety of samples for our clients to choose from to help our clients further visualize the final product. The voice selection process only ends when the client has found the talent they need. If they don't like any samples we share, we always look for more.
The Fourth Step: Communication and Feedback
It's in our DNA to be client-centric, and our exceptional team members are avid listeners who take the time to provide close communication with our clients each step of the way. We listen to your challenges and pain points so we may offer substantial consultation to help you get the results you seek.
Allowing the Client to Be Present:
Often, clients request to be present at the recording studio, and we encourage it where possible. Whether it's calling in for a teleconference or being physically present, the client can request adjustments or be sure they are content with the way the voiceover is done. If the client can't be present during the recording, we aim to send our client the recording for review before moving on. This mitigates the occurrence of mistakes or revisions later in the process that can be time-consuming and costly.
The Fifth Step: Quality Assurance
In addition to the initial linguistic quality assurance check that we perform at the script level and during the translation process, some projects need further QA checks to ensure continuity and cohesion between the linguistic and technical elements, such as the duration of the video, audio levels, elimination of possible glitches.
How Argos Does It Better:
At Argos, we are driven by quality. For every client we serve, our goal is to deliver results with the highest quality. Our Quality Assurance check isn't just a final milestone, but a continuous process for each project.
Selecting the right partner for your voice over needs can make all the difference in the visibility and reception of your videos. Whether you pick Argos or go the route of an alternative service provider, here are three more things you should know about voiceovers:
Voice-over is an umbrella term including several types of productions: IVRS, narrations, UN-style, and dubbing.
All of these can be summed up in two main categories: Timed (video) or Untimed (audio only). It's important to know what you need between these two.
The end-use of the VO has an impact in cost (VO for commercial use is more expensive and can come with buy-out fees) and the kind of recommendations we can give our clients
Ready to start your voiceover journey today? Reach out to the experts at Argos Multilingual to explore your options on how you can internationalize your message with our Multimedia Services and take your voice to your audiences.