Interview with 2018 Autumn Edition Winners – Felicien and Cary.
We are happy to announce that we are starting a new series of blog posts dedicated to our seasonal Argos Partner Recognition Program and its winners. Every quarter we are going to reward The Best Freelancer and The Best Language Service Provider for outstanding performances in the work process with Argos.
We hope these dedicated people will motivate and guide others in the journey within the translation industry and that is why we asked them to share their experiences with us.
Today we have the pleasure to talk with our 2018 Autumn Edition Winners Felicien and Cary.
Cary – iLen PM: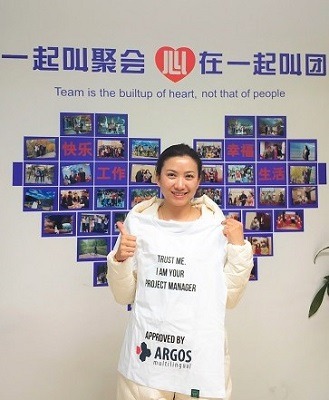 Cary: It is really my honor to have this opportunity for this interview! 
What do you do when you are not managing projects?
Cary: I like my work. I'm not trying to be polite to say that, because I have a daughter in primary school. So, sometimes, as you can imagine, "after work" is more tiring than going to work. However, thanks to the humanized management and teamwork of iLen, I get a good work-life balance.
How do you ensure a good work – life balance?
Cary: I can arrange my time flexibly to bring my daughter to and from school, work from home (when necessary) and get support from my colleagues.
What is your favorite way to spend your time off work? 
Cary: I would say reading, nail beauty and dancing. My favorite hobby now is Latin dance. I started my dance learning at the beginning of last year, when I enrolled my daughter in dance class. I was attracted by the passionate music as well.
What is the one food you turn to when looking to indulge?
Cary: It is an interesting question. I must say Hot Pot. There is a popular saying in China: Nothing can't be solved with a Sichuan hot pot. If it can't, just have two. 
Felicien – Freelance Translator:
What are the daily challenges you experience?
Felicien: Distractions. That's really the only thing that upsets the workflow. The biggest perhaps being emails coming in offering projects. Of course, I'm happy to have this kind of a distraction, but it does break up the pace and my concentration since I usually have to reply to the inquiries immediately to avoid missing out on work, and doing so always involves more than a few seconds of time (opening the file, reviewing it, checking scheduling, etc.). Other distractions include things that are related to everyday life, such as tending to a house or vehicle when repairs are necessary. Or anything else that needs to be done during normal business hours (which is why I often do my work at night!).
What would you advise to someone who is willing to start their career in translations? What advice would you give for beginner translators? (Ways to prepare yourself to start a career in translations)
Felicien: The biggest thing I would recommend is that they pursue another career in some depth before they become a translator, or at the very least be exceptionally well versed in a handful of subjects. The best translators I have worked with over the past 20 years are people who have entered the field through another profession.
Another recommendation is acquiring solid research skills. No one will necessarily know an answer immediately. A good translator, however, will know how to find the correct answer, and quickly. It's a bit easier now with the internet but still requires skill.
The final tip, an equally important one in my mind, is that, if possible, they start out working at an agency to understand the business aspect of the industry. Being on both sides of the phone/internet is important to understanding all sides of the picture (the translator's, the agency's, the end client's) and being able to deliver the level of product demanded.
What type of person makes the perfect [freelance] translator?
Felicien: This is a two-pronged response.
Pragmatically speaking, the perfect lifestyle for a freelance translator will be a single person who has no children, an easy to manage pet (if necessary) and lives in a relatively low-maintenance environment such an apartment. Why? Because in order to be the most productive (financially speaking), one should be able to work without distraction and with an open schedule for the entire day and possibly evening (to negotiate projects that run long or to offer rush service). This is not to say others cannot be successful – of course, there are plenty of translators with homes and families and many dogs that need multiple walks – but the most prolific will be those without commitments. It's just a matter of numbers.
As for the skill set required to make the perfect freelancer. Here are some common traits:
Self-motivated and focused with good work habits.
Willing to study and learn about new things all the time.
Self-reliant on technical matters relating to computers and software (e.g. know how to fix your computer – replacing power supplies, restoring an OS after a hard drive crash, etc.).
Happy to work alone without the need for social contact (at least within business hours – some people can't stand the isolation)
Translate more than one language. Offer as many languages as you can competently. This increases your chances of receiving work.
Exceptional knowledge of one's native language.
Exceptional ability to communicate in writing in one's native language.
Attention to detail. Although I list this last, it's probably one of the most crucial skills any translator should possess.
What is the biggest misconception people have about working as a translator?
Felicien: Honestly, I don't know. I guess you'd have to ask a non-translator. The questions I usually get asked about my work have to do mainly with what languages I translate and what materials I work on. People rarely ask me about what my life as a translator is like.
Does the growing trend towards Machine Translations worry you as a translator?
Felicien: Nope. I'll be long gone before machine translation reaches a level of competency to replace a skilled human translator. Although the technology has made great strides, at best it is still only equivalent to a non-native translator with only moderate skills in the target language. At worst, it produces an unintelligible product that requires as much (or more) time to edit as it would to retranslate it. I could see perhaps in 10 years from now being able to edit a MT product without too much of a hassle, but it still would not be a perfect translation. To have it approach perfection requires near true artificial intelligence to understand nuance. Likewise, certain languages fare better in MT-environment than others, and it also depends heavily on the subject matter.